The prominent property at 64 North Terrace, Kent Town, has always made a splash, firstly as the home of one of SA's first premiers, Sir Frederick Holder, then as a theological college and later as Pepper Studios, the source of many of Adelaide's memorable early television advertisements.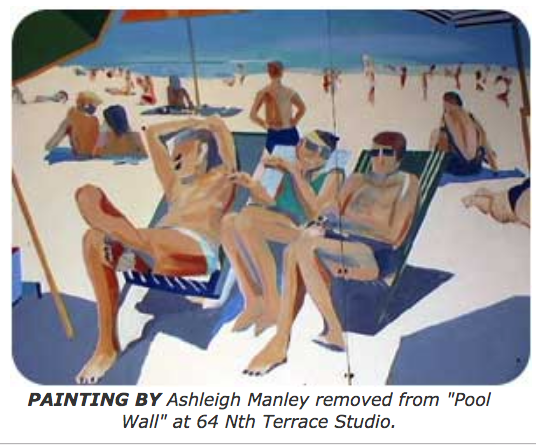 However, one of the most notorious chapters in this long and storied history involves its reputation as "the place with the pool". Located behind the former Parkin Theological College building on the left, the swimming pool was regularly used for dips during the 1980s and 1990s, as part of the riotous parties when the property was Pepper Studios, run by renowned audio and film producer Max Pepper.
Mike O'Reilly, a serial tenant at Pepper Studios during the 1990s, said the biggest splash in the pool involved the West End Girls, a television troupe recruited to promote SA Brewing during the competitive "beer wars" era. "After recording an advertisement one hot summer afternoon, everyone went out the back to unwind over a drink," recalls Mike.
"I reliably heard on Monday that the drinks kept flowing until someone suggested that they take a dip. Rather than go home for their bathers, some of the girls just got out of their gear and, along with other party goers, went for a skinny-dip. It was a very relaxed atmosphere in those days."
One day that was not relaxed was Friday, September 15, 2000 – the day that the Olympics opened in Sydney – when staff and tenants discovered that many were losing their jobs and tenancies in the coming weeks. Among the tears and farewells and quite a bit to drink, a window was accidentally broken in the office that overlooked the swimming pool.
"As I was starting to clear out my office the next morning, I realised that some of the glass had fallen in the pool," recounted Mike. "When I went to clean it up, I discovered the security system was armed for most of the building, so to get to the pool, I had to creep down the spiral staircase, then edge along the wall – Mission Impossible-style – to pick up the glass from the paving and fish it out of the water."
But today at Base 64, the swimming pool no longer presents a temptation for skinny dipping or a risk of broken glass. During major renovations in 2013 and 2014, the derelict pool was replaced by a 50,000-litre rainwater retention tank, covered with a wooden-decked barbeque area.
Author: John Harris